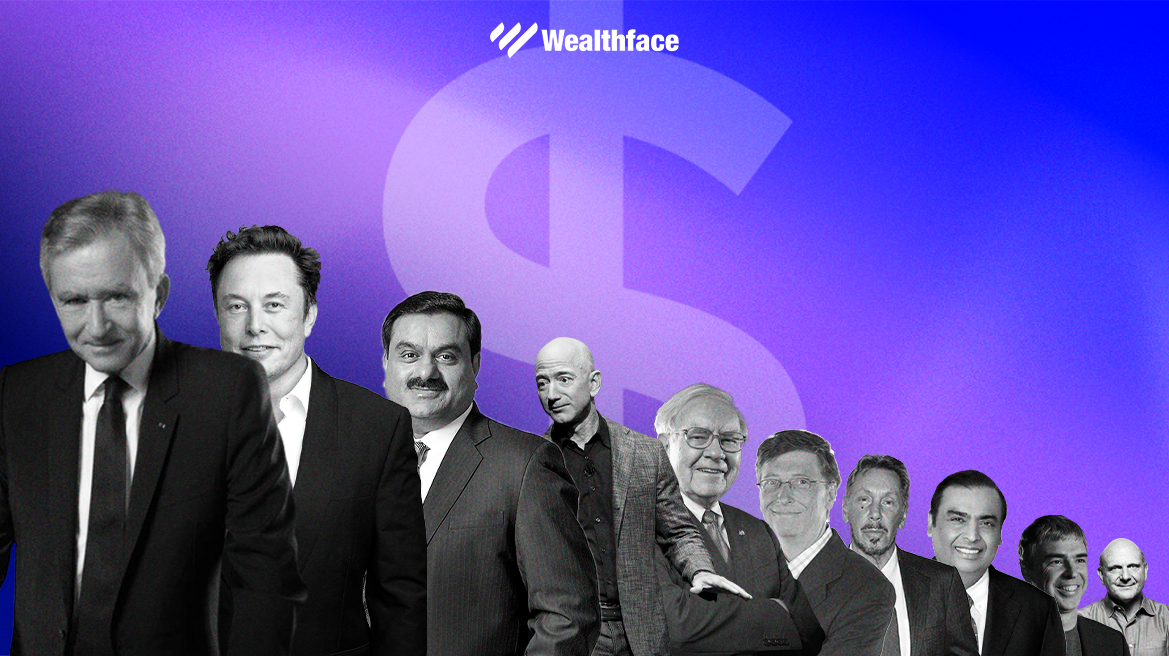 The 10 Richest People in the World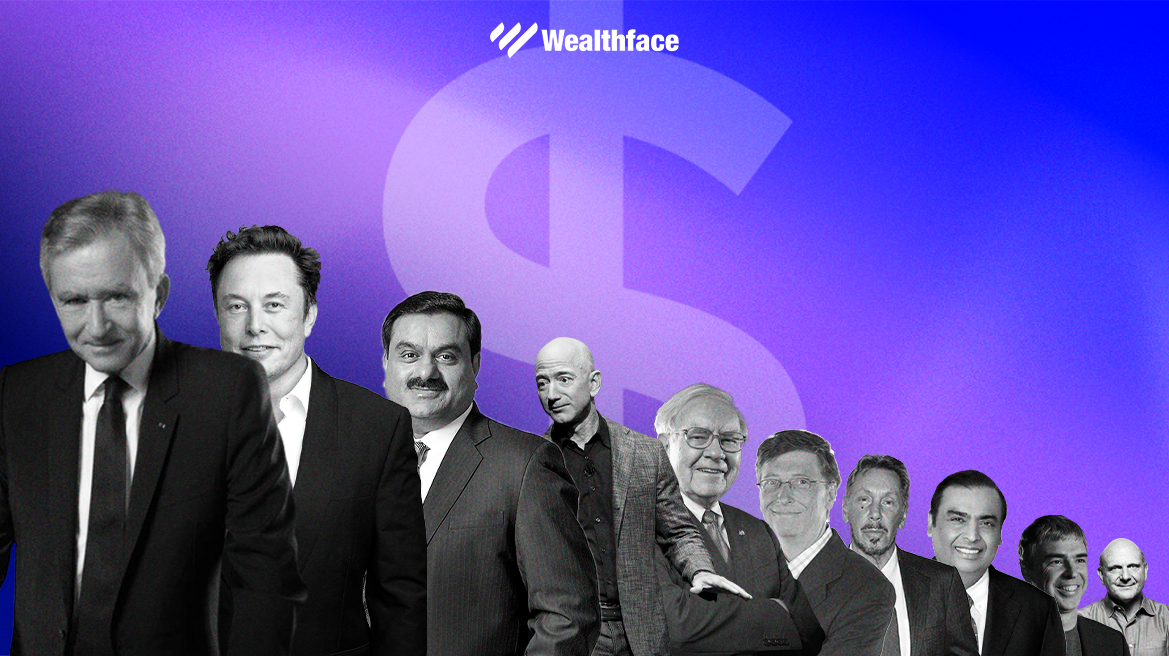 Did you know that the wealth of the world's richest people estimated by 1 percent is equal to the wealth of the rest of the world?
Source: CNBC

But who are those figures holding such fortune?
Billionaires are always in the spotlight knowing that they play a huge role in shaping the global economy, rather than having a great influence in politics, and global relations.

As much as it's hard to be a billionaire, it's harder to sustain the ranking among the top 10 richest people in the world for the year. Of course the list can vary from year to year, depending on the billionaire's latest net worth and financial performance.

For this year's list, the top 10 places were occupied by seven Americans, 1 French and 2 Indians of the world's billionaires. Each of them are founders of their own companies, with a success story contributing to their wealth building journey.

Here's a closer look at the 10 richest people in the world, as listed on Forbes' Real-Time Billionaires.
Top 10 Richest People in the World
Bernard Arnault ($190 B)
The French Bernard Arnault, born in 1949 is the CEO of LVMH, the world's largest luxury goods company including Louis Vuitton, Hennessey, Marc Jacobs, and Sephora.
Arnault was formerly an engineer working for his father's construction firm, Ferret-Savinel. After taking charge of the company in 1971, it was converted into a real estate company named Férinel Inc. in 1979.
Later, he got interested in luxury goods maker Financière Agache in 1984, eventually selling all its holdings other than Christian Dior and Le Bon Marché.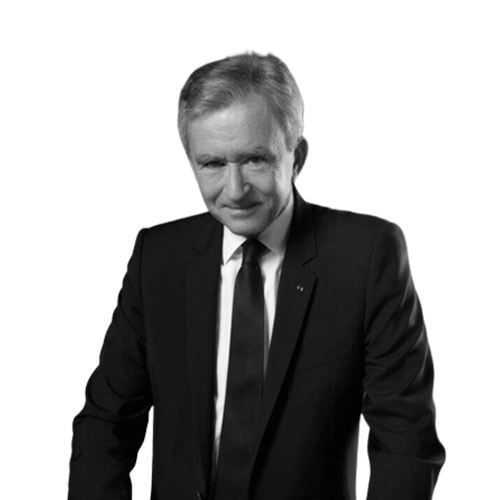 The transition in Arnault's life was when he invested in LVMH in 1987, and became the majority shareholder and CEO of the company two years later.
Consequently, the source of Arnault's wealth was derived from his lion stake, through his family-owned holding company, Groupe Familial Arnault, in Christian Dior SE, which controls 41.2% of LVMH.
Elon Musk ($174 B)
Almost everyone has heard of Elon Musk, (TSLA) co-founder and chief executive officer (CEO), and recently the owner of Twitter, in addition to his eBay's acquisition of PayPal back in 2002. Musk became the richest man in the world in early 2022 with a net worth of 219 billion dollars, before losing this rank by the end of the year.
Born in South Africa in 1971, Elon Musk became a millionaire in his twenties after selling his startup Zip2 to Compaq Computers; and later continued accumulating his wealth by founding X.com in 1999, SpaceX in 2002, and Tesla in 2003.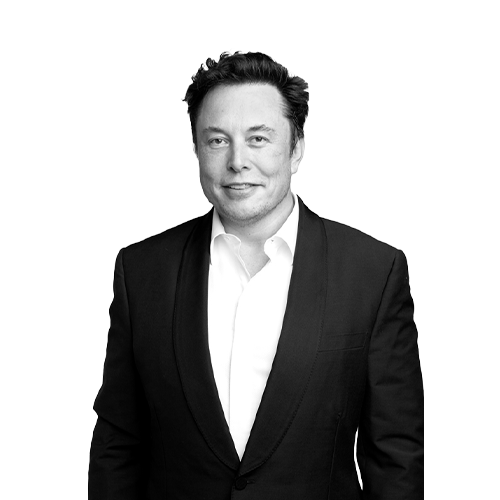 In 2012, SpaceX launched a space rocket that sent the first commercial vehicle to the space station, and the "Falcon 1" and "Falcon 9" were the first missiles it launched, in addition to the "Dragon" spacecraft.
Musk has also shown a clear interest in the field of artificial intelligence. And in 2017, Musk ventured into the Neuralink project with the intention of making implantable devices inside the human brain to help people integrate with technology.
Finally, this year, Musk completed the acquisition of Twitter for $44 billion. Although 2022 was a tough year for all investors, including Musk, the billionaire, he was able to sustain his first rank as the richest man in the world.
Gautam Adani ($133.7B)
Gautam Adani, born in 1962 India, is the founder of Adani Group, the third richest person in the world and the first in Asia. In 1988, Adani established Adani Enterprises to import and export commodities.
Then in 1994, his company was granted approval to develop a harbor facility at Mundra Port, the largest private port in India. Recently in 2020, Adani bought a 74% stake in Mumbai's Chhatrapati Shivaji International Airport, India's second-busiest airport.
Through his company, the Adani Group, Adani owns major stakes in six key Indian companies, including a 75% stake in Adani Enterprises, Adani Power, and Adani Transmissions, as well as a 66% stake in Adani Ports & Special Economic Zone, 61% stake in Adani Green Energy, and a 37% stake in Adani Total Gas.
Jeff Bezos ($115B)
Back in 1994, the man in his thirties turned from an employee in one of the investment companies in Wall Street, to the most prominent rich in the world and the owner of Amazon, the largest company in e-commerce .
It all started when it caught his attention that investing in the newly born Internet at that time achieved an annual growth in the number of users up to 2300%. Bezos decided to seize the opportunity based on the rapid growth of the network, so he chose to sell books online, which he considered the best way to launch his fledgling online store.
He later resigned from his comfortable job in the middle of the year before he even got his annual bonus, and borrowed $300,000 from his parents and friends to rent a small garage with his wife and put everything he needed to start his business.
A few years later, that is, in 1997, the shares of the new online store Amazon were put on the stock market, and the wealth of this young man exceeded one billion dollars, meaning that he won the title of a billionaire within only four years of the beginning of his adventure.
Warren Buffett ($108B)
American investor Warren Buffett, founder of the Berkshire Hathaway empire, which includes more than 60 companies under its umbrella, is one of the most famous global investors in the current era, with his huge investment experience that spans many decades.
Warren Buffett is 91 years old, and his fortune has exceeded $100 billion. He began building it at a very early age when he was 11 years old, when he bought his first share in his life, then applied to pay taxes at the age of 13.
It's true that Buffet built his wealth through purchasing undervalued companies. However, he later invested in large, well-known companies, as he diversified his portfolio among insurance, energy distribution, and railroads as well as consumer products.
More recently, the Billionaire has dedicated much of his wealth to philanthropy, where he donated $41 billion, mostly to the Bill & Melinda Gates Foundation and his children's charities between 2006 and 2020.
Bill Gates ($106B)
The American Bill Gates born in 1955, is a computer programmer and entrepreneur who co-founded Microsoft Corporation, the world's largest personal-computer software company.
Gates made his first software program at the age of 13. In 1975 Gates, then joined his friend Paul G. Allen at Harvard University to develop software for the first microcomputers.
Through the success of Microsoft, Gates accumulated a huge fortune as the company's largest individual shareholder, and thus became a billionaire in 1986, and within a decade his net worth had reached into the tens of billions of dollars.
Between 1995 and 1996, Gates developed the Windows CE operating system platform for networking non computer devices such as home televisions and personal digital assistants.
Beyond software and information technology, Gates with his wife, Melinda, has established foundations for his charitable work.
Later in February 2014, Gates stepped down as Microsoft chairman but continued to serve as a board member until 2020.
Larry Ellison ($102 B)
Larry Ellison, in full Lawrence Joseph Ellison,(born in 1944), is an American businessman and entrepreneur who was co-founder and CEO of the software company Oracle Corporation, with a stake ownership of 35%.
In 2014, after 37 years, Ellison stepped down as the Oracle CEO role in 2014. Later in 2018, he joined the board of Tesla until August 2022, where he purchased about 15 million shares in the electric carmaker.
Ellison investments rely on an analysis of that income, insider transactions, taxes, spending habits and market performance. The calculation includes the value of real estate in San Francisco, Lake Tahoe, Malibu, Rhode Island, Japan and Hawaii, as well as Hawaii-based airline Island Air.
Mukesh Ambani ($92 B)
Jnjhj Mukesh Ambani is an Indian businessman, chairman and managing director of the Indian conglomerate Reliance Industries Limited (RIL), the foremost company of the Indian energy and materials conglomerate Reliance Group.
His father, Dhirubhai, and a cousin founded the Reliance Commercial Corporation, which grew into RIL from a commodities-trading business. In 1981, Ambani joined the family business, where he worked to diversify the company, venturing into multiple areas, including communications, infrastructure, petrochemicals, petroleum refining, polyester fibers, and gas and oil production.
In the 2010s Ambani began building Jio Platforms, a subsidiary of RIL dedicated to telecommunications and e-commerce. Later, in 2016 the Jio brand offered the first nationwide network for 4G broadband service.
Larry Page ($83 B)
Larry Page, formerly a computer science professor, is a co-founder of Alphabet, parent company of Google. He co-founded Google in 1998 with fellow Sergey Brin, and together they invented Google's PageRank algorithm, which powers the search engine.
Page was Google CEO until 2001, and then became CEO of Google's holding company Alphabet until 2015. In addition, The Mountain View, California-based company founded in 1998, reported revenue of $258 billion in 2021. The group's divisions include Gmail, Android and YouTube.
As of 2021, Larry Page had amassed a personal fortune of over $100 billion, to become one of the ten wealthiest people in the world.
Steve Ballmer ($82 B)
Despite his background away from investors, Steve Ballmer is an actor who joined the club of the top 10 richest people in the world. He is known for The Simpsons (1989), CBS This Morning (1992) and The Money Programme (1966).
He made history by becoming a billionaire from Microsoft Stock Options. He is the 2nd longest employee at Microsoft and the only person ahead of him is Bill Gates. He was the 30th employee to join Microsoft.
Ballmer became CEO of Microsoft, leading the company from 2000 to 2014. After he retired from Microsoft he bought the NBA's Los Angeles Clippers for $2 billion. Then in 2018, he invested $59 million in Social Solutions, which makes software for nonprofits and government agencies.
Bottom Line
Wealthface
smart financial tools will help you shape your financial future.
Check out this graph of our aggressive portfolio