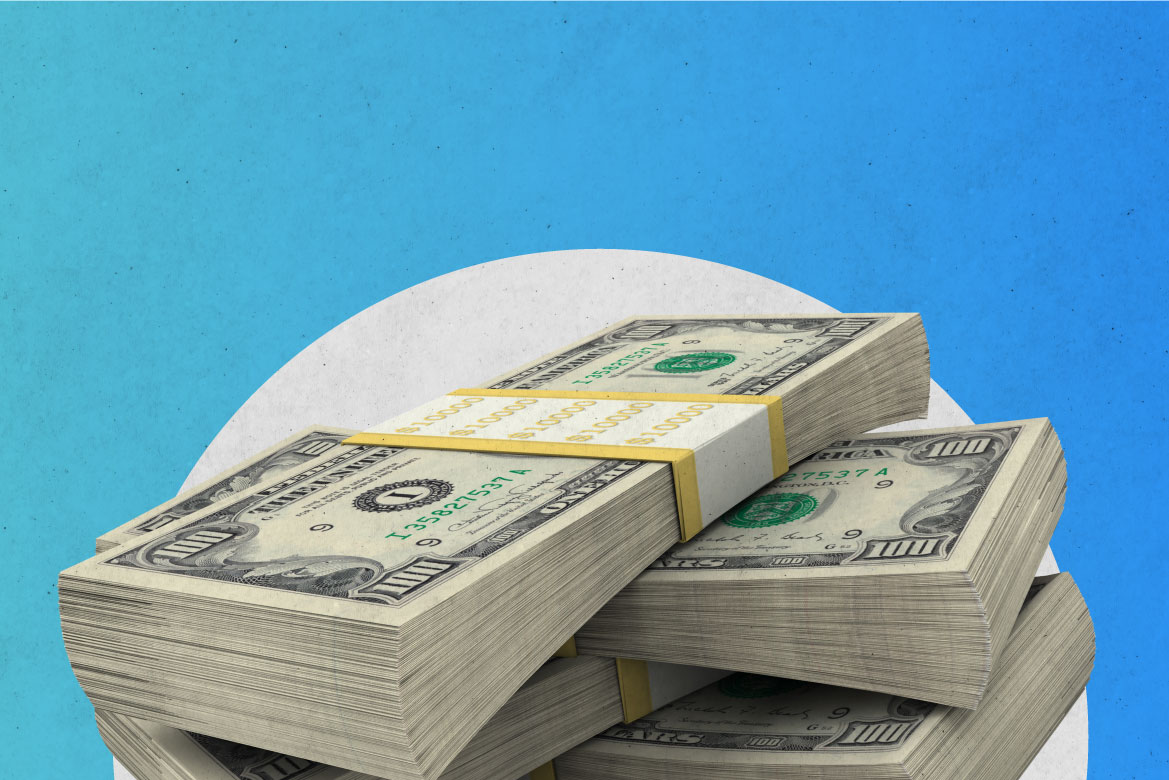 Articles
Investing
Magazine
Personal Finance
3 Things you can do with $100K
Fun Fact: According to a Bank of America research from January 2020, one out of every four millennials has at least $100,000 in savings.
If you're one of the lucky ones looking to invest $100K, allow us to guide you today on some of the best ways to do that. If you have the patience, depositing the money in a savings account may be the best option. You might also put some of the money into real estate or a diversified portfolio of stocks on the market. Whatever you do, you want to be sure you're thinking strategically and evaluating all of your options. Of course, finding a financial advisor to assist you with your investments is one method to make things a little easier.
Before we dive into your various options, here are some things to keep in mind before investing: 
Pay off any high debt you have!
If you have large debt, your best strategy is to pay it off before investing in the stock market. This includes debt owed on credit cards as well as debt owed on other loans. Do not hold off paying your debt, as it will liberate you and give you financial independence. 
An emergency fund is mainly money to spare for use in the event of an unexpected event. Let's say for example, you lost your job, or maybe had a major mechanical issue in your car, an emergency fund would be of help in these unfortunate events. Normally, an emergency fund should be able to cover six months of life expenses, keep that in mind! 
If you already have an established one, than that's great, just make sure it is well established and can cover all your needs.
Now let's invest that $100,000 you have laying around!
With a risk level that can depend on each investor, stock investment is a good option no matter the amount you put in.  
One of the simplest methods to develop long-term wealth is to invest in the stock market. After all, based on the timeframe you look at, the average stock market return has plummeted between 7% and 10% per year. Some years provide much bigger profits than others.
In the midst of the COVID19 Pandemic, the Dow Jones yielded a 9.63 percent return in 2020.
How? 
Even though the idea might seem overwhelming, here are some tips to get you started:
If you are a risk avert, buy full stocks!

 
When it comes to picking individual stocks, you must be extremely knowledgeable. Your level of diversification will be modest unless you buy in thousands of individual equities, which most individuals don't.
Invest in ETFs or Mutual Funds
Mutual funds and exchange-traded funds (ETFs) are stocks that have been pre-bundled for you so that you can make a single investment and gain immediate diversification. The difference is in the way they're assembled, handled, and sold.
This is your low cost investment option in stocks. It will allow you, especially if you are a first-time investor, to understand and create your own diversified portfolio and investment strategy. Learn more here.
You might want to consider investing in real estate by buying properties, or by taking part in real estate investment trusts. REITs are a way that allows you to invest in real estate without having to buy property. We recommend speaking with an expert before doing that to better understand the real estate market and further enhance your standing as an investor. It normally requires a balance to get started of around $500, with returns that can reach an average of 9.47%.
A medium risk level investment, investing in gold is a guarantee against possible crashes. Normally, we notice that the price of gold rises along with the rise of any other prices, so you're in a safe spot.  This is a good option if you are looking to invest in assets that work independently of the stock market. Even though this will help you diversify your investment portfolio, the risk of your physical gold getting lost or stolen is real.
In a nutshell, having $100K just laying around can be a hassle, and you should absolutely invest it if you're looking for long-term wealth and financial growth. 
Whatever you end up doing with your money, don't let fear hinder your process, because staying still can be lethal.
Wealthface
smart financial tools will help you shape your financial future.
Check out this graph of our aggressive portfolio