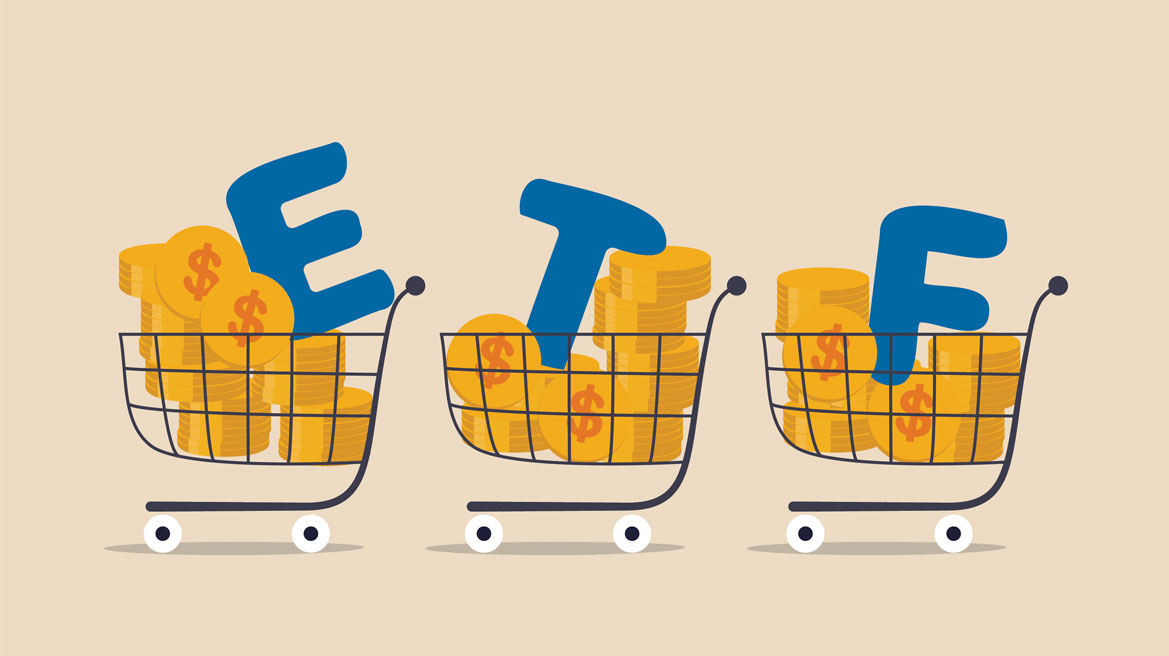 Articles
Investing
Magazine
7 interesting ETFs to keep in your portfolio
Exchange-traded funds can be an excellent choice to enter the stock market. The combination of instant diversification and the ETFs rapid liquidity is a strong reason to consider it as a first investment or part of a veteran portfolio. ETFs carry lower risk than individual stocks and have low management fee compared to mutual funds.
Buying ETFs sounds easy but picking a good one is not an easy task.
In this article we narrow the options of ETFs based on our predictions and on what could be a great addition to your main portfolio with Wealthface.
A little more growth ETFs
We believe there are few sectors that have a huge growth potential in the next 5 years. For "go-growth" investors these four ETFs could be a great choice:
E-commerce. The way we shop has changed and even before Covid-19 breakdown, big chunk of global sales was penetrated by e-commerce. No wonder, e-commerce has a huge opportunity to continue growing. Amplify Online Retail ETF (IBUY) is one of the oldest ETFs in online retail space and one of the top-performing ETFs of this year. It is well diversified with 75% exposure into US stocks and 25% into international equities. As we mentioned, IBUY could be a great choice for growth investors with the expense ratio of only 0.65% per annum.
Genomics. Genomics & Biotechnology ETF (GNOM) focus on biotech companies that generate revenues from the field of genomic science, such as gene editing, genetic medicine, genetic diagnostics and so on. Moreover, importance of DNA sequencing in fighting the coronavirus. GNOM has a huge growth potential and has expense ratio of 0.68%.
Cloud Computing space. Cloud space is certainly one of the most popular among ETF investors; any line of business relies on cloud computing today. Cloud Computing ETF (CLOU) has soared this year and we believe it has a great long-term investment opportunity. The expense ratio is 0.68%.
Tech sector shows a long-term uptrend and we thing there is even more to go. The ticker symbol QQQ gives you an ETF Invesco QQQ that monitors the NASDAQ 100 Index. NASDAQ 100 is made up of the largest non-financial companies listed on NASDAQ exchange. This ETF charges a cost ratio of only 0.20 percent.
Defense and high-yield choices ETFs
After reading the first part of this article, you are probably wondering, if I go too aggressive how can I be prepared for declining market due to pandemic or any other unexpected market downturn? Here are some defensive ETFs you can consider adding to your portfolio:
Utilities ETFs. One of defensive holding could be Utilities ETFs. Vanguard Utilities ETF is an income-producing instrument, they pay high dividends and can outperform the market during times of market downturn. If you're looking for a solid combination of yield and low expenses, VPU is an outstanding choice. VPU tracks the MSCI US IMI Utilities Index, which consists of about 70 U.S. utilities stocks, such as NextEra Energy and Duke Energy. The current expense ratio is 0.10%.
Gold ETF. Traditionally, the price of precious metals such as gold, rises in times of crisis. SPDR Gold Shares is the largest physically-backed gold exchange-traded fund in the world. Wealthface currently has gold ETF in their portfolios but we would like to highlight this ETF one more time. The expense ratio is $0.40 or $4 on every $,1000 invested.
REITs ETF. The combination of good investments returns and growth possibility is always a great choice especially when you invest in REITs, their businesses are safe and have strong cash-flow. That's why we added Vanguard Real Estate Index Fund ETF (VNQ). It is literally a fund of funds, it is well diversified within real estate of all types such as residential, commercial, storage and so on. The expense ratio is only 0.12 or $1.20 on every $1,000 invested.
When buying ETFs make sure are getting the valuations right and always keep in mind that historical performance is not a guarantee for future returns. Trust the intermediaries who are managing your money and get in touch with Wealthface financial advisor to get free advice.
Wealthface
smart financial tools will help you shape your financial future.
Check out this graph of our aggressive portfolio