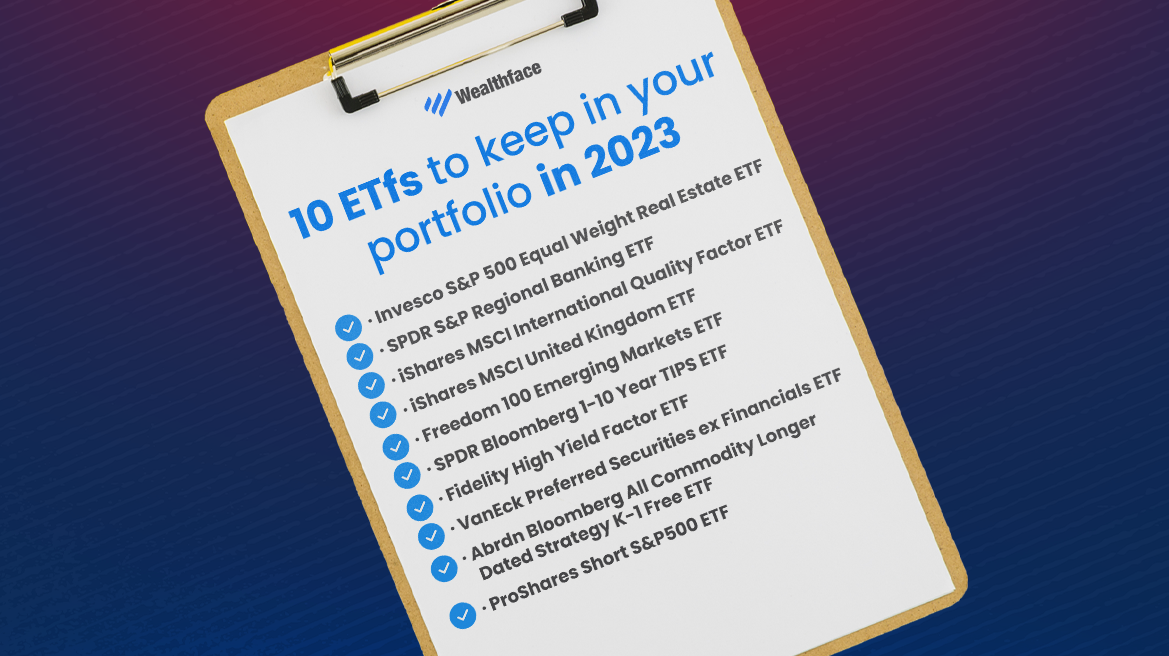 10 ETfs to keep in your portfolio in 2023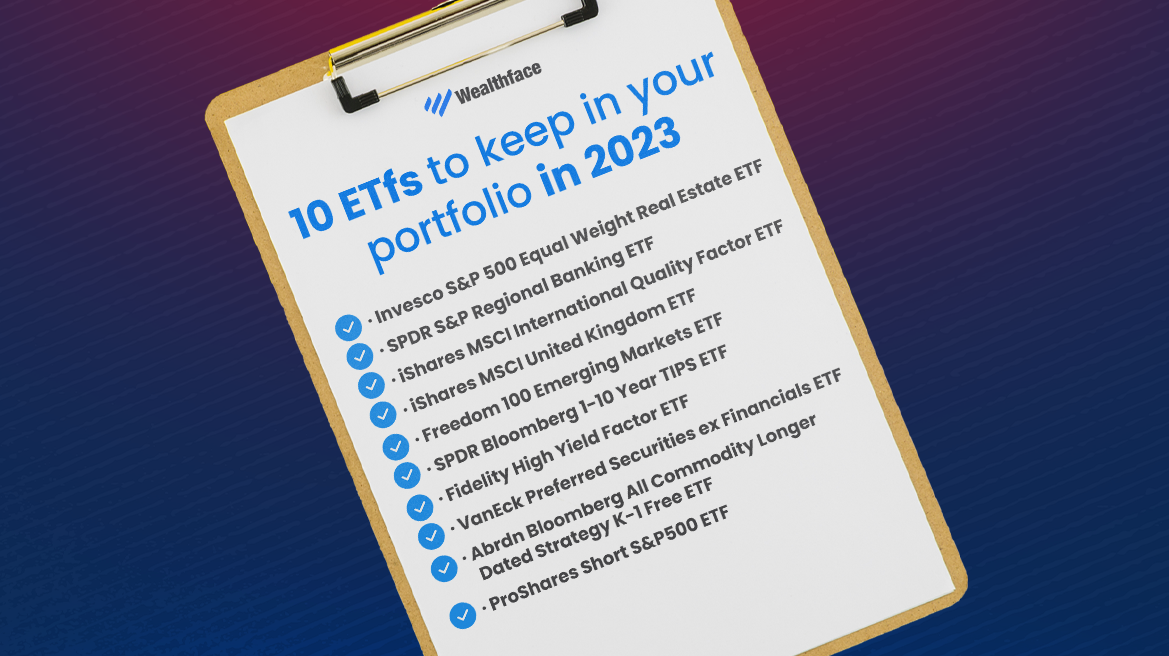 Exchange-traded funds can be a great way to break into the stock market for new investors. They're a cheap option for many and usually entail reduced risks because each ETF holds a diversified collection of investments. As a result, it's no surprise that many investors are always looking for the best etfs to add to their portfolios!
ETFs are one of the best investment options because of the benefits and significant returns they offer investors, that is if you pick the right funds!
What are ETFs?
If you're a newbie to the trading word, we're here to provide you with a quick brush-up on ETfs.
ETFs, or exchange traded funds, are a group of hundreds or thousands of stocks or bonds, which are traded at stock exchanges while tracking a specific index.
Note: ETFs can include all types of investments and not exclusively stocks. Constituents could range from commodities to bonds!
An interesting fact about ETfs is that they are centered around a specific theme. Themes could include growth or value stocks, dividend-paying stocks, as well as certain industries.
Learn more about ETF's in details:
How are ETFs different from stocks?
Although ETFs and stocks are both ways utilized by investors to make money in the stock market, there are many differences between them. As a general rule, ETFs offer a more diversified option when compared to stocks.
This is because stocks are basically the shares of an individual company. An ETF, on the other hand, is a basket of different stocks that tracks an index, like the S&P 500.
However, with literally thousands of ETFs to sift through, how should an investor proceed?
Trending ETfs
Before we dive deep and introduce 10 of the best ETFs in 2023, it's important to address the most trending ETFs that might have caught your eye!
We've curated a list to help you identify them!
Bito etf
vanguard etf
Invesco qqq etf
spy etf
ark innovation etf
roundhill ball metaverse etf
proshares bitcoin strategy etf
Let's focus on 1 ETF for today: the Bito ETF!
The Bito etf needs no introduction. It is the first U.S. bitcoin-linked ETF, allowing investors to access bitcoin returns in a transparent way. 
According to cryptopollitan, the bito etf price is expected to be valued at  $17.89 by the end of this year! No wonder it's been making headlines lately!
Now, without further ado, get to know 10 of the best etfs in 2023 for a prosperous year ahead!
Best ETFS in 2023
The much-awaited ETFs are as follows:
Invesco S&P 500 Equal Weight Real Estate ETF
SPDR S&P Regional Banking ETF
iShares MSCI International Quality Factor ETF
iShares MSCI United Kingdom ETF
Freedom 100 Emerging Markets ETF
SPDR Bloomberg 1-10 Year TIPS ETF
Fidelity High Yield Factor ETF
VanEck Preferred Securities ex Financials ETF
Abrdn Bloomberg All Commodity Longer Dated Strategy K-1 Free ETF
ProShares Short S&P500 ETF
Here's an inside look to each one of them!
Invesco S&P 500 Equal Weight Real Estate ETF
This ETF made the list due to many reasons! The Invesco S&P 500 Equal Weight Real Estate ETF (EWRE) adds a special quality to the traditional real estate sector by taking the 30 REITs within the S&P 500, and instead of weighting them by market capitalization, they are equally weighted during every rebalancing!
Moreover, Invesco's fund offers a larger yield in comparison to other funds in the same sector. Note that this very same sector is famous for its dividend generosity!
SPDR S&P Regional Banking ETF
This ETF falls under the industry of regional banks with a Dividend yield of 2.0%! 
Note that we're not surprised since 2022 has undisputedly been the year of banks thanks to higher interest rates!
iShares MSCI International Quality Factor ETF
This interesting ETF (IQLT) allows investors to benefit from diversified exposure to Europe, Japan, and other markets while using the same quality-factor metrics as QUAL to filter stocks!
The portfolio's most weight is in Europe, which amounts to half –add to that a 14% exposure to the U.K! The rest of the weight is distributed between Japan and the UK.
iShares MSCI United Kingdom ETF
European equities are considered not very expensive these days, but British stocks are hands-down cheap!
The iShares MSCI United Kingdom ETF could make the cut to 2023's best ETF if we witness returns following years of disappointing results after Britain equities' value prices.
Freedom 100 Emerging Markets ETF
Emerging markets are in a better shape than you think! And what's so special about Freedom 100 Emerging Markets ETF is that its tracking index starts with a selection universe of 26 emerging countries!
Must Read:
SPDR Bloomberg 1-10 Year TIPS ETF
This ETF provides some protection in the face of persistent inflation because it falls under the type of Inflation-protected bonds.
The SPDR Bloomberg 1-10 Year TIPS ETF (TIPX) adds more defense through aiming at shorter-maturity issues.
TIPX's roughly 40 holdings enjoy an average maturity of just less than 5 years, making it strongly under the category average of nearly eight years. Hence, duration is 4.9 years as opposed to 6.8 for the category average! Now that's interesting!
Fidelity High Yield Factor ETF
The attractive Sec yield of 4% is one of the best things about the Fidelity High Yield Factor ETF! This is because yield is very important these days as the ETF falls under high-yield bonds.
VanEck Preferred Securities ex Financials ETF
Since we're discussing yields, a few other fixed-income categories are offering yields above inflation. Preferred stocks are one of them!
Luckily, the VanEck Preferred Securities ex Financials ETF falls under its type and the VanEck's fund is still relevant because of its higher yields and lower costs when compared to most of its peers, leading it to outperform against most of the other major preferred funds over each significant time frame!
Abrdn Bloomberg All Commodity Longer Dated Strategy K-1 Free ETF
We're almost sure you knew that hard commodities are a great way to tackle inflation and a return to the recovery!
BCD, or Abrdn Bloomberg All Commodity Longer Dated Strategy K-1 Free ETF, gives investors access to the performance of futures contracts for nearly two dozen commodities, spanning natural gas, aluminum, and even corn.
As of now, exposure is heaviest in energy commodities- 345 to be exact!
That's not the only interesting thing about this ETF, though!
The ProShares Short S&P 500 ETF 
In simple words, this ETF goes up when the market goes down. After all, it falls under the type of inverse stock, providing the inverse daily return of the S&P 500!
View it more as a tool to use instead of the best etfs to hold in 2023. It's good to have the chance to avoid some losses in your portfolio!
How to buy an ETF?
Buying an ETF is the easiest thing in the world. You'll just need an online trading platform, like Wealthface, to be able to buy and sell securities like ETFs, in the same manner as a regular stock!
How can you buy ETFs through Wealthface?
Now it's time to head over to Wealthface to start your journey.
If you already have an account, you can place the trade by searching for the ETF name in the search bar. If you don't have an account, keep on reading!
Open an account
You're definitely missing out on all the vast investment opportunities without your Wealthface account. 
To get started, start by answering a few questions for a few minutes and then proceed to instantly fund your account with Wealthface's various funding options!
Find ETFs and use stock screening tools
With more than 2000 ETFs available in US markets, finding the right ETFs could be somehow challenging.
Luckily, the power of technology has enabled investors to pick out the best-performing ETfs with AI and Quant analysis.
These stock screening tools are like filters that cross out ETFs that don't meet your criteria.
Also, they allow you to save a lot of time during the search process while shedding light on the best-performing ETFs during a specific time period.
Place the trade
The great thing is that ETFs don't have a minimum investment requirement!
To buy an ETF, search for the ETF that caught your eye or simply type down its ticker in the search bar.
Proceed to go over each etfs characteristics, themes, and price before making the final purchase!
Watch your money work
Now is the time to make some returns! Add that ETF to your portfolio to build your wealth. On a different note, did you know that most ETFs pay dividends?
You can receive your ETF dividends as cash, or you can resort to a dividend reinvestment plan or DRIP.
Truth is, ETFs provide many ways for investors to make money, making them one of the best investment options ever!
Start dabbling in the world of ETFs and don't forget to keep an eye on our list for a prosperous start in 2023.
Wealthface
smart financial tools will help you shape your financial future.
Check out this graph of our aggressive portfolio