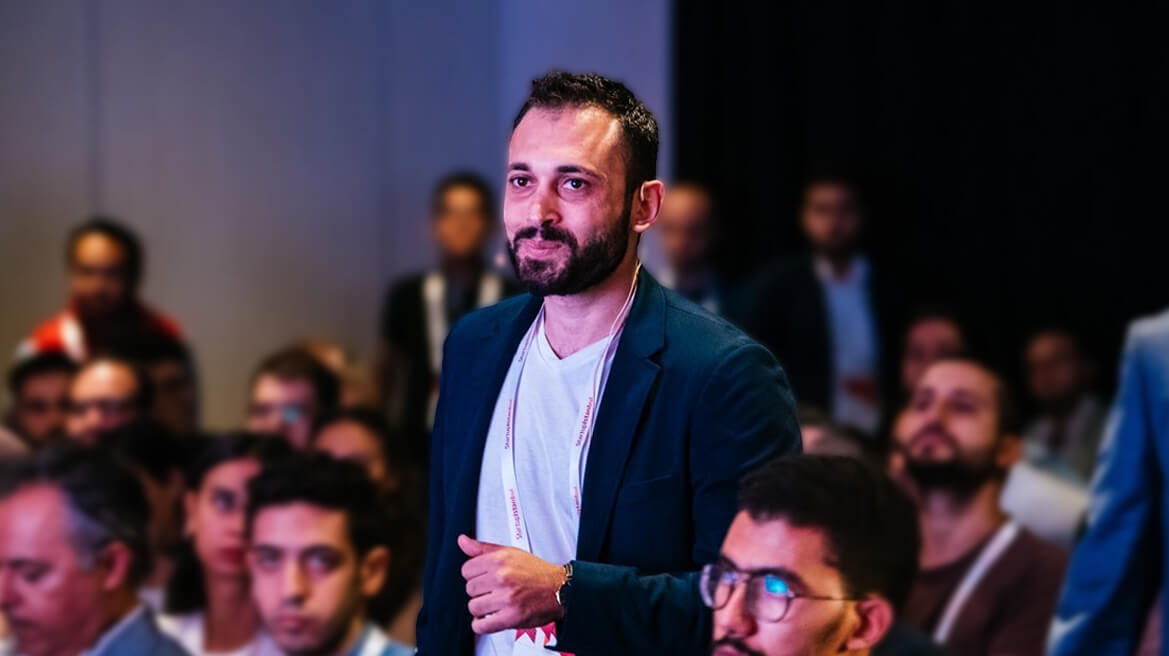 Three Generations of Serving People, Now in Three Continents
Bilal Majbour, born and raised in Beirut, always saw his grandfather offer help to people in every way imaginable. No matter the issue, from helping people find jobs, to settling family disputes, Bilal's grandfather was always there. What struck Bilal the most about that, was the humility with which his grandfather carried out his philanthropic endeavors. He didn't do it for praise, he did it because he genuinely wanted to help people. As they say, "blood is thicker than water", Bilal Majbour also inherited his grandfather's penchant for helping people. After moving to Canada and completing his university degree, Bilal Majbour worked for several renowned Canadian Banks. His firsthand experience with clients fueled his entrepreneurial fire and he founded Wealthface in July 2018. Today, with offices across three continents and a large number of happy and satisfied customers, Wealthface is changing the landscape of automated financial advising. While Wealthface currently operates its "Invest" product, The robo-advisor service is going to launch "Trade" soon.

The Secret Origins of a Fintech Entrepreneur
Maybe it was destiny, or maybe he was born with it. A young and ambitious Bilal moved to Canada to complete his education. He landed his first job at the National Bank of Canada. Bilal had an eye-opening experience during the time of the financial crisis. The frustrations of all the customers who had lost their money really had an impact on him. He channeled his grandfather's helpful spirit and decided that he must do something to help these people. "I should take the initiative to become a financial advisor", Bilal said to himself.
Bilal continued working and learning at big Canadian banks and insurance firms such as Sunlife Financial. Eventually he joined Saxo Bank and moved to the Middle East's crown jewel, Dubai. Even after Bilal travelled across continents and started working in Dubai, he noticed that most investors faced similar issues, no matter their geographical location. Bilal kept hearing complaints, investors did not know what to do or where to go. They lost their direction and were unable to identify the right tools, they were looking for a solution and they wanted a lot more than just trading tips. As passionately as Bilal wanted to help those people, he knew that he faced an uphill task. He thought to himself "If you go out there and tell people you want to open an investment bank, they would laugh at you". However, Bilal refused to give up, and decided that it was better late than never and founded Wealthface in July 2018. The foundation for Wealthface's groundbreaking approach was based on diversification as a remedy to risk, using a Nobel Prize Winning Academic Research.
Wealthface was conceived as a client-oriented and user-friendly wealth management company. Seeing the potential in Wealthface, Yacoub Nuseibeh, previous Senior Executive at the Abu Dhabi Investment Fund and the President of CFA Emirates, joined as a co-founder in 2019.

The Roots of Wealthface
One of the most important problems that Bilal wanted to solve was that most of the existing companies in the wealth management field required hefty minimum fees and there was always a probability of human error, vested interests and the lack of unbiased professional advisors who would put their clients' interests before their own. Bilal knew that the solution lay in offering efficient, cost-effective and customer-centric services. The real challenge was changing the status quo and helping potential investors overcome the fear of changing how things are done. Bilal met the challenge head on. He decided to create a new kind of wealth management platform that combines brain power and modern technology. A technology that is based on innovative algorithms and user-friendly interfaces on a platform that gives clients unfettered, 24/7 access to their investments from the comfort of their homes.
With a clear purpose in mind, it was time to develop the strategy and execute the idea. Teaming up with colleagues and friends who had worked for years in some of the most prestigious institutions in finance and investment, Bilal had firmly planted the roots of Wealthface.

Story of the Exotic Indian Spice Behind Wealthface
An essential step towards the creation of Wealthface was Bilal Majbour's 2017 trip to India's Silicon Valley, Bangalore. He spent a significant amount of time in the IT capital of the World's second most populous country. India has lots of people, and lots of people mean lots of experiences to get inspired by and learn from. Bilal stayed at a hotel near the offices of global tech giants IBM and Microsoft and interacted with a lot of people who worked there. His rendezvous with numerous millennials who had a great affinity towards modern technological tools and a fast evolving, global and borderless economy, taught him a lot of the impact of technology is revolutionizing human communication and shrinking geographical boundaries. Bilal also met with the students of the Indian Institute of Information Technology in Bangalore. His experience with the energetic and young minds really invigorated him. He didn't just work with them, he also had fun with them, going out for dinner with a Ph.D class on an occasion. The enriching experiences from India acted as the final injection of inspirational fuel that started moving the pistons of the Wealthface engine a year later.

Bilal describes himself as a global entrepreneur, a Canadian businessman in terms of ethics, a Phoenician in terms of commerce where they have 3000 years of history, an Arabic man in terms of culture and a true believer in the American dream.That's why he went to New York City, the financial capital of the world and signed the first deal for his firm with Drivewalth, one of the most innovative technology brokers in the world.
What Wealthface Offers
Driven by the vision to make the world of investing available to everyone, everywhere, Wealthface doesn't shy away from doing things differently. Bilal and his firm are committed to providing investment management services that have evolved from the traditional methods into the new, forward-thinking and effective methods. Wealthface strongly believes in getting rid of the high fees and account minimums and embracing a smarter, more efficient way to invest your money. Unlike many of its competitors, Wealthface allows you to open an account with no balance. On top of that, there are no trading fees as well. These are Wealthface's three different tiers of account services, along with their features and fees:
Basic Accounts ($0 – $100k deposit)
Fee – 0.75%
What you get:
Customized portfolio
Fractional investing
Automatic rebalancing
Expert Advice
Free portfolio check up
Systemic deposits
Platinum Accounts ($100k-$500k deposit)
Fee – 0.65%
What you get:
All Basic features
Tax efficiency guarantee
Annual financial planning sessions
Infinite Accounts ($500k+ deposit)
Fee – 0.5%
What you get:
All Platinum features
In depth financial planning
Asset allocation
Dedicated financial advisors
An ETF fee of 0.1% is charged in addition to the above-mentioned fees.

Wealthface allows you to invest your funds in globally diversified portfolios of low-cost index funds, in a way that is used by savvy, successful investors. Thanks to its cutting-edge technology and years of experience, Wealthface specializes in minimizing risk and maximizing returns. Wealthface is driven to eliminate complicated, time-consuming tasks of managing wealth and offer simple, straightforward access through automatic rebalancing, dividend reinvesting, and always seeking out the best options for a customer's funds. "Wealthface is always at your reach and ready to make your financial life a brighter and wealthier one", Bilal signed off on that note.
Wealthface
smart financial tools will help you shape your financial future.
Check out this graph of our aggressive portfolio