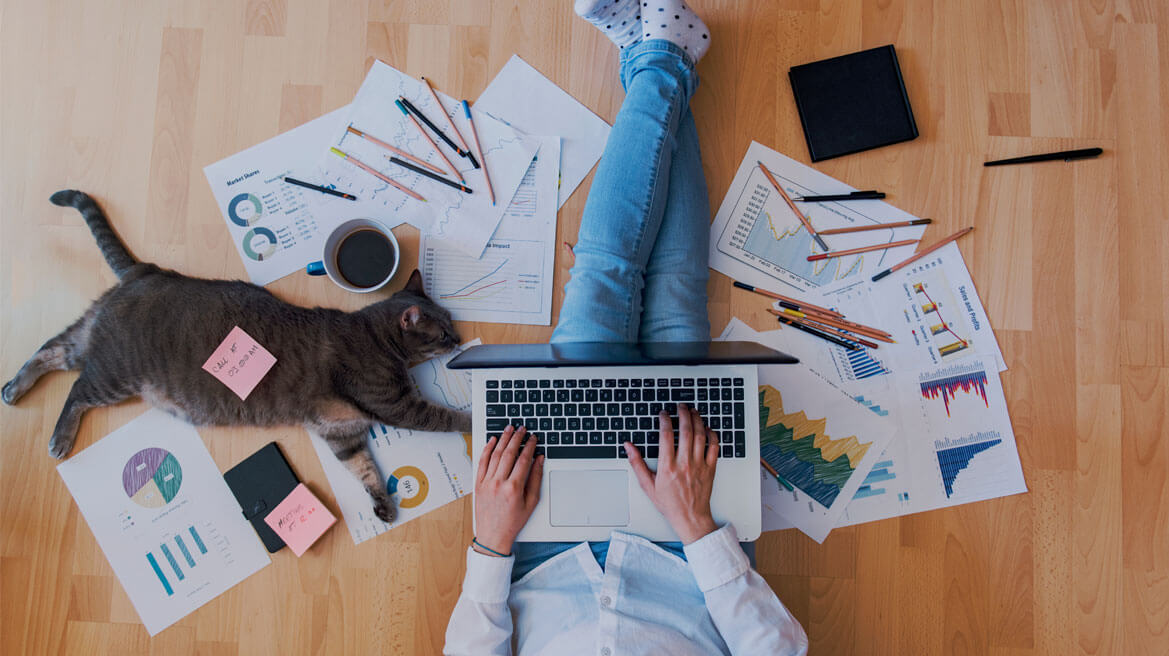 Working from Home? Check out 10 Tips of How to Stay Productive
The increase of COVID-19 or the novel Coronavirus has prompted many businesses worldwide to recommend that their employees start working from home until the virus spread slows down. It has made working from home our new reality, and it will take some time for us to get used to it. The expectations for the job may be the same, but the atmosphere is not. And it's not just a straightforward transition. Don't worry! We will give you the best tips on how to stay productive while working from home.
Remote work is a double-edged sword — sure, you get to remain (or not) in your PJs, but working remotely is more complicated than you think. When you work and live in the same room, it can be more challenging to concentrate on just actually working. Distractions, procrastination, and laziness are much easier at the home workplace. These issues could influence even the best of us, without a professional climate.
There will be days when family members or housemates annoy or disturb you when you need to manage household tasks such as laundry or dishes, while emails stream into your inbox. Staying successful at home may also entail a little extra effort or a rejigging of how you approach your job.
It means it is up to you to motivate yourself to get as much out of your time as you can in an office environment, whether working remotely by choice or by necessity. Because the pandemic seems like it's going to be around for a while, we're not going to know when we should safely move back. Now it's time to improve productivity when working remotely and remain mentally and physically balanced. We have some of the best research from tips on house efficiency to help you work from home, preferably. These tips improve your productivity and help you get your work-life refreshed.
10 Tips of How to Stay Productive While Working from Home
1- Create a Workspace
Since you will now live and work from the same physical location, it is best to build a dedicated room for your "office" at home. Creating an environment that lets you concentrate on the tasks at hand is the secret to making your customized work area a place of efficiency. So, stop working on the couch or bed, no matter how tempting they appear.
Although not everyone has spare space to turn into a home office, there's always a dedicated and comfortable place in your house. Stop working where you'll be distracted or tempted to complete your to-do lists without the built-in control that an environment at your workplace offers you. Your work area space will be aligned with your work during the day and will allow you to "clock off" and move away from that space if necessary. A dedicated place keeps space apart from your work and home, without much effort. Hence, making the job easier and more organized from home.
2- Set a Morning Ritual
Seek to construct a morning routine that ends with you beginning the job. It can be as easy as waking up, making your bed, washing your hair, making a coffee, and changing the clothes (or remaining in your PJs, who are we to judge?). But it's the goal or attitude to each new day that matters. A morning routine leads you through your work, as it is a ritual of head-clearing that prepares you for the day. It provides a requisite mental gap between home time and work time (the role you used to play in your morning commute).
3-Plan Out Your Work
Working from home will get easier if you want to schedule your day just like you do in the workplace. To remain on the schedule, arrange what you'll be doing and when you'll be doing it over the day to keep track of your workload. You have to make the best of that by purposefully managing the day. So, it's best to schedule what you're going to focus on ahead of time along with your midday break times, and what time you're going to clock out for the day.
Bear in mind that while it is essential to let your plan change if you need to, sticking to the plan that outlines each task before you start is equally important. One of the best ways to keep you going might be to write down the day's tasks and cross them off until they're finished. You may also praise yourself for keeping yourself focused at the end of each job or day. It would make working simpler and more effective from home.
4-Set Boundaries with The People You Are Living With
It doesn't automatically mean you won't have "business" per se when you're working from home. Ensure that your co-workers, siblings, friends, partners, kids, and even pets value your space during working time. Simply because you work from home doesn't mean you're "at home." It is also your duty to let your family members know what they can and can't do during that time.
5- Communicate with Your Colleagues
Yes, the Coronavirus epidemic has called for social distancing along with social isolation, but avoiding complete social isolation is important. Keep up with your colleagues on the social network. Moreover, for those used to socialize at work, loneliness can easily become a downer. Therefore, the lack of socialization is one of the most challenging aspects of working from home. You would think you would be effective without your chatty colleagues. Still, social contact can relieve feelings of isolation or loneliness even via a phone or video call during times like these.
Even if you're an introvert, it's best to try out some immersive activities, so you're familiar with them if you ever decide you'd like them. It will not only work for your mental health but will also be an important factor in team building. It encourages cooperation and rapprochement among all.
As stressful as some office environments can be, there is nothing about having friends that you enjoy working with and catching up with every day. Therefore, find time to communicate with others while operating from home, if that means making all those arrangements after quarantine or ranting about a workday.
6- Remember that Everyone Works Differently
Every employee has the obligation and the determination to work from home. But bear in mind that everybody has to have their own timetable, their own challenges, and their own tasks to complete, so try not to compare and put yourself down because of it.
Managers should bear in mind that not every employee does the same. Thus, while some do not find the WFH challenging, others may. And now that because of the virus, WFH is classified as an utmost necessity, it is vital to keep contact flowing for those in need and those coping with this transition. But note that a two-way street is a liability. You need to do your scheduled diligence to assure your team and the management that you can manage your tasks from home.
Similarly, in keeping with your peers, you should always strive to interact with your colleagues and accommodate their work timings. Update your management with a weekly or daily email or call so that there is no contact, particularly about difficulties, challenges, etc. Therefore, it is best to keep contact flowing smoothly to promote this interdependence of work.
7-Work When You Feel You Are Productive the Most
Motivation as we know it ebbs and flows during the day. Working the whole day at the same flow, pace, and performance is unlikely. So, know when there are such ebbs and flows, plan your schedule around it. Capitalize on your profitable times by completing the tougher tasks when you know that you are at your peak in development.
One benefit of working remotely is you have more flexibility to handle your time just as you would like. Although preparing your work schedules is important to keep team interdependence in mind, you can arrange your tasks to the timings that best serve your needs. You can either stick to the regular working hours, or you can set your timetables: if you are a morning person, you can start at 7 am instead of 9 am or 10 am if you are more of a night birth you can finish at 8 pm or 9 pm instead of 5 pm or 6 pm.
As there is no commute to work, you easily save time (with no carbon contribution from you), and there is no irritation about traffic either. Since your uniform is your comfortable PJs / sweatpants these days, there's no need to "get dressed" or stress being "late." Typically, the time spent on these activities can improve productivity or take between heavy tasks a much-needed break.
8-Identify And Eliminate Anything That Might Distract You
Distraction remains a formidable obstacle when working from home, and only you can conquer it. The trick to being as productive as possible is to do all you can to prevent interruptions and distractions when working from home. If you don't know the main distractors, you really can't discover the concentration zone. Isolate yourself from something that can confuse you quickly and develop a constructive strategy to nix these wasters of time.
If social media is your Achilles heel, consider auditing your time and scheduling a schedule where you'll encourage yourself to browse quickly. If you don't need the Internet, it is safer to detach your mobile devices and stick to your laptop to function. Even you can try to freeze your social media applications and concentrate on your work. It is an important work from the tips on home efficiency, so don't discard it.
9-Take Breaks
Scheduled breaks are your element. You can also put in some time off when you prepare your schedule for the day. While distracting yourself usually is easy, don't let the guilt of working at home prevent you from taking five to relax.
Try taking some time off your desk and phone, even if it's just five minutes. For example: take a walk around your home indoors, or spend time with others—no scrolling through Instagram or only one Netflix show. Ideally, a break should have no screens involved. It's when you can get a bit of fresh air, rest, and relax.
10- Choose a Definitive Log Off Time
Creating organizational boundaries involves where you draw your line as well. You need to know when to pause. Although it can seem as if you have versatility in time, allowing you to combine your job with everyday activities, it is effortless to immerse yourself in one activity and lose track of time altogether.
When you're working from home, logging off for the day doesn't just mean logging out of your laptop. Establish this habit to suggest to yourself that it's time to avoid worrying about work, too. Just because you have access to work anytime doesn't mean you should be logged in 24/7. After logging off, "go home," even if you are already home. Clear your desk, and turn off your computer to bring a change of atmosphere. Vacate your designated work from the home area and move into another part of the house to truly feel the disconnect.
Finally, don't be too harsh on yourself and put a routine to end your day. Again, it may be very easy, but it will build a pattern that means the working day's end. It can be a walk at night, water your plants, read your favorite book, a yoga session at home, play with your pet, or talk with your family. To mark the end of work hours, even the simplest routine has to be regularly followed. You have to figure out what works best for you, above all else. You can face challenges while trying to remain optimistic and concentrated. However, use the aforementioned work from tips on house efficiency to gain ascendancy over time and function.
Wealthface
smart financial tools will help you shape your financial future.
Check out this graph of our aggressive portfolio