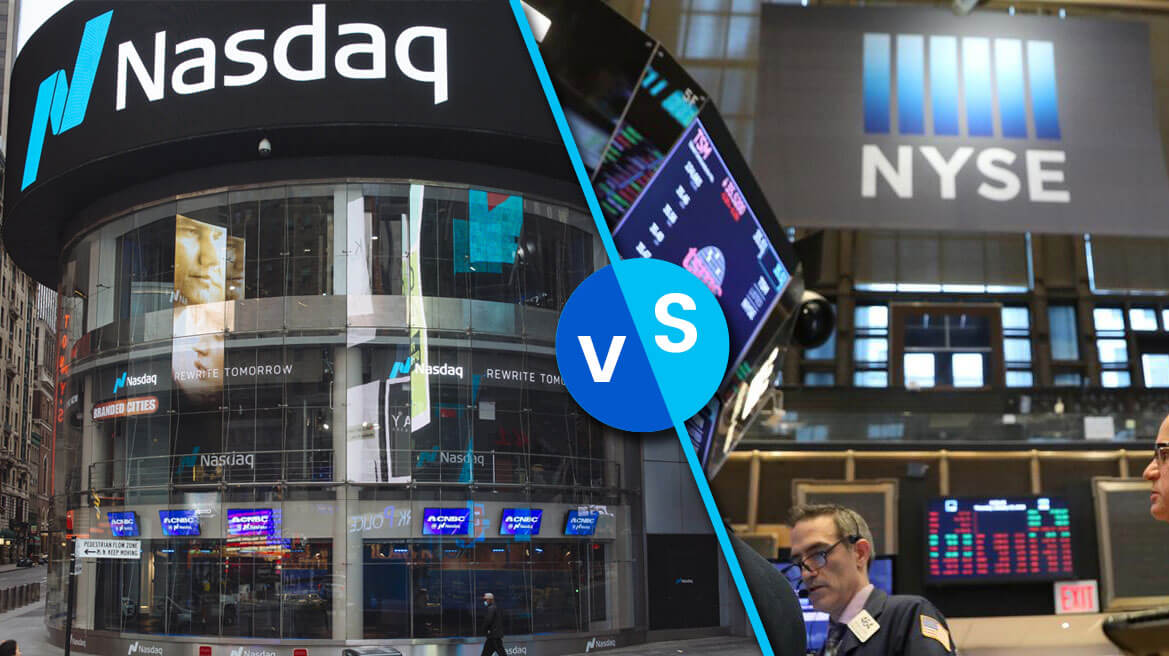 NYSE vs NASDAQ: What are the Differences?
NASDAQ and the New York Stock Exchange (NYSE) are the two largest stock exchanges in the world.
Both the stock exchanges are great platforms for participating in securities trading.
From a distance, they appear to share a lot of similarities in their considerable size and purpose.
But if you look closely, you will find that there are quite a few differences between these two mega stock exchanges.
If you can get an understanding of the differences between NASDAQ and NYSE, you will have a clearer idea of the workings of a stock market.
In this post, we will help you understand just that. Let's get started.
What are the differences between the NYSE and NASDAQ?
Nasdaq VS NYSE stock
The biggest difference between NASDAQ and NYSE is the type of market they are.
Nasdaq is a dealer's market. What that means is that all participants trade through a dealer rather than directly with each other.
The NYSE on the other hand is an auction market. It allows individuals to transact with each other on an auction basis.
While this was the basic and most obvious difference, there are a few other differences as well and we will discuss them now.
Auction Market vs Dealer's Market
The formats of NASDAQ and NYSE are representative of the difference in the way that they operate.
An auction market, as run by NYSE, runs on the basis of buyers and sellers entering competitive bids at the same time.
The price at which the stock gets traded is representative of the highest price that a buyer is willing to pay, and the lowest price a seller is willing to accept.
Orders are then executed by a specialist after the matching bids and offers are paired together.
A dealer's market, such as NASDAQ features many dealers posting prices at which they buy or sell a specific stock.
In a dealer's market, a dealer serves the purpose of a market maker.
That term stands for a member firm or market participant such as a brokerage company or bank that actively buys and sells stocks on behalf of traders.
Market makers have the power of enabling the process of matching up buyers and sellers to be a lot quicker. They also perform the task of maintaining liquidity and trading efficiently.
Location of Transactions
Both of the two largest stock exchanges in the US are located in New York City but the location of transactions for trading on NASDAQ and on the NYSE are very different.
While NYSE still has a physical trading floor, many of the transactions occur at its data center situated in Mawah, New Jersey.
What is NASDAQ?
NASDAQ on the other hand, is an entirely electronic exchange.
It does not have a physical trading floor and operates through direct trading between investors and the market makers.
Originally, all of the trading on the NASDAQ took place over a computer bulletin board system, new automated trading systems have been introduced that offer the benefit of daily trading volumes and full reports on trades.
Traffic Control
Traffic controllers do the crucial job of connecting buyers and sellers. However, their roles are slightly different between NASDAQ and NYSE.
Traffic Controllers are generally responsible for dealing with traffic problems and ensuring their markets run effectively.
Both the exchanges have different traffic controllers who execute their functions in a slightly different way.
NASDAQ's traffic controller, known as the 'market maker', actively buys and sells stocks on behalf of traders.
The NYSE's traffic controller, known as the 'specialist', facilitates the market for buyers and sellers through setting opening prices for stocks, accepting limit orders, and moderating interest for particular stocks.
While both roles have the same end goal of enabling a smooth and orderly market for clients, they are different in the way they go about it.
NASDAQ's market maker effectively creates a market, while NYSE's specialist simply facilitates it.
Almost 40% of the NASDAQ's trade volume is carried out via an electronic communications network (ECN), which is an automatic system for directly matching buyers and sellers.
By way of comparison, on the NYSE, only 7% of the volume is done via an ECN.
Though that is bound to change with evolution towards a hybrid system of humans and machines.
Types of Companies Listed
The number of stocks listed on each stock exchange is not fixed.
How many companies are listed on NYSE and NASDAQ
When it comes to the listings on NASDAQ and NYSE, the answer to the question of how many stocks are listed on the NYSE, is that NYSE trades stocks for around 2,800 companies, while Nasdaq has more than 3,300 listings.
The NASDAQ-100 has 100 of the largest publicly-traded businesses, based on market capitalization. NASDAQ's wider exchange has quite a few small and micro-capitalization stocks as well.
How to buy NYSE stocks and NASDAQ stocks?
NYSE and NASDAQ stocks can be bought online through the medium of an online broker. Wealthface is one of the leading online investment firm that can help you to start trading stocks in these well known exchanges.
Listing Requirements
There are different listing requirements between NASDAQ and NYSE as well. To be listed on NASDAQ, a company must have at least 1,250,000 shares available for the public to trade.
For a company to be listed on the NYSE, companies should issue a minimum of 1,100,000 to at least 400 shareholders.
Some of the other crucial differences include fees; for companies looking to list on the NYSE the entry fee goes up to $500,000, while for Nasdaq, the entry fee ranges from $50,000 to $75,000, with a yearly fee of around $27,000.
NYSE-listed companies need to have a minimum share price of at least $4 while the market value of the company's public shares should be at least $40 million.
In order to get a NASDAQ listing, companies need to have at least three individual dealers for their stocks.
Perception of Stocks
When it comes to public perception, the NASDAQ tends to be more volatile than the NYSE.
The biggest reason behind that is the fact that the NYSE has a lot of long-established, stable companies such as Coca Cola, Citigroup, IBM and Walmart.
The NASDAQ, on the other hand, is more well known for listing fast-growth tech businesses with potentially more scope for dramatic price movement.
Some of the most popular stocks listed on the NASDAQ are Facebook, Apple, Google and Amazon. Now you can easily invest in these big companies with small investment through fractional shares option.
Private vs Public
The ownership structure of each exchange used to be different from how it is today. Some time ago, NASDAQ was a publicly-traded corporation, while the NYSE operated privately.
However, all that changed in March 2006 and the NYSE went public as well and traders were able to trade its shares on an exchange.
Traders can place their money on Nasdaq and NYSE through the Nasdaq and NYSE platforms.
Can the differences between NYSE and NASDAQ be used to traders' advantage?
If you are going to choose the right market for yourself as a stock trader, here are the things you should consider.
Nasdaq VS NYSE
Volatility: In case you want to trade stocks that have a potential for rapid price movements, the stocks listed in the NASDAQ will be better for you.
In case you want to trade with stocks that are more stable, you are better off with the stocks listed in the NYSE.
Nature of trading: NASDAQ doesn't offer the option of floor brokers as the NYSE does. It exclusively trades electronically.
However, the products offered by both NASDAQ and NYSE can be traded via third-parties, ECNs, and derivatives.
So those were the differences between two of the biggest stock exchanges in the world, the NYSE and NASDAQ.
Both these exchanges have similarities as well as differences.
You can use the differences between the stock exchanges to select the right exchange for your trading needs.
Wealthface offers stocks from both Exchanges. If you will willing to invest then you are at the right place.
Join Wealthface and Start Investing in Stocks Offered By these Exchanges and Build A Diversified Stock Portfolio.
Wealthface
smart financial tools will help you shape your financial future.
Check out this graph of our aggressive portfolio