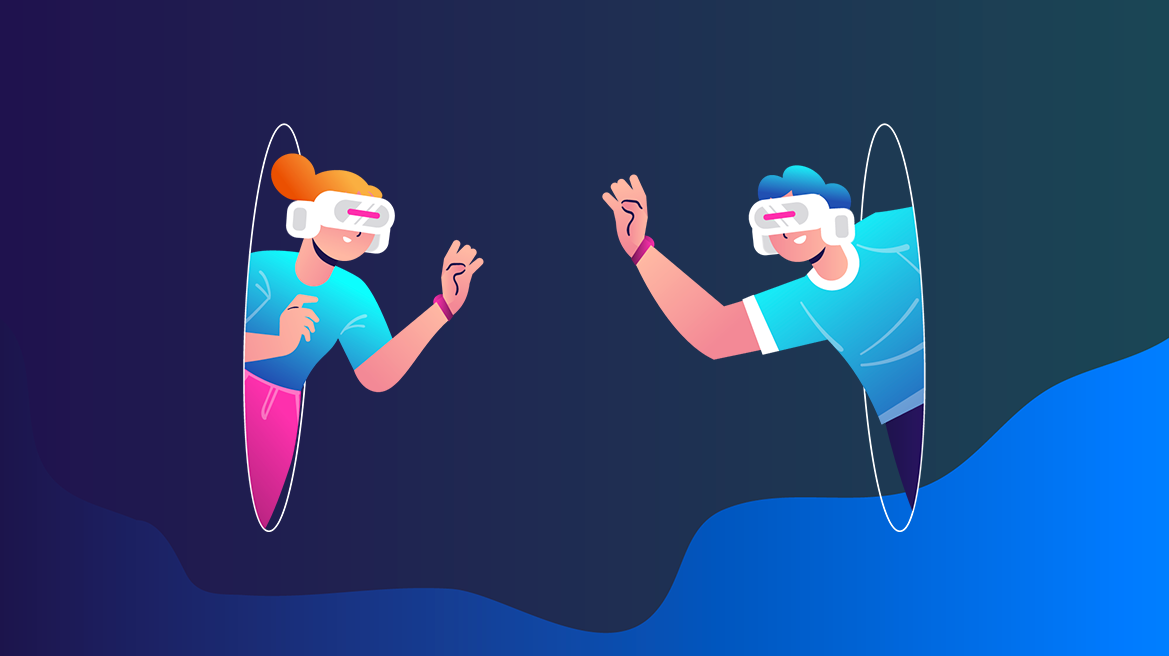 What is the Metaverse? & its Importance in Business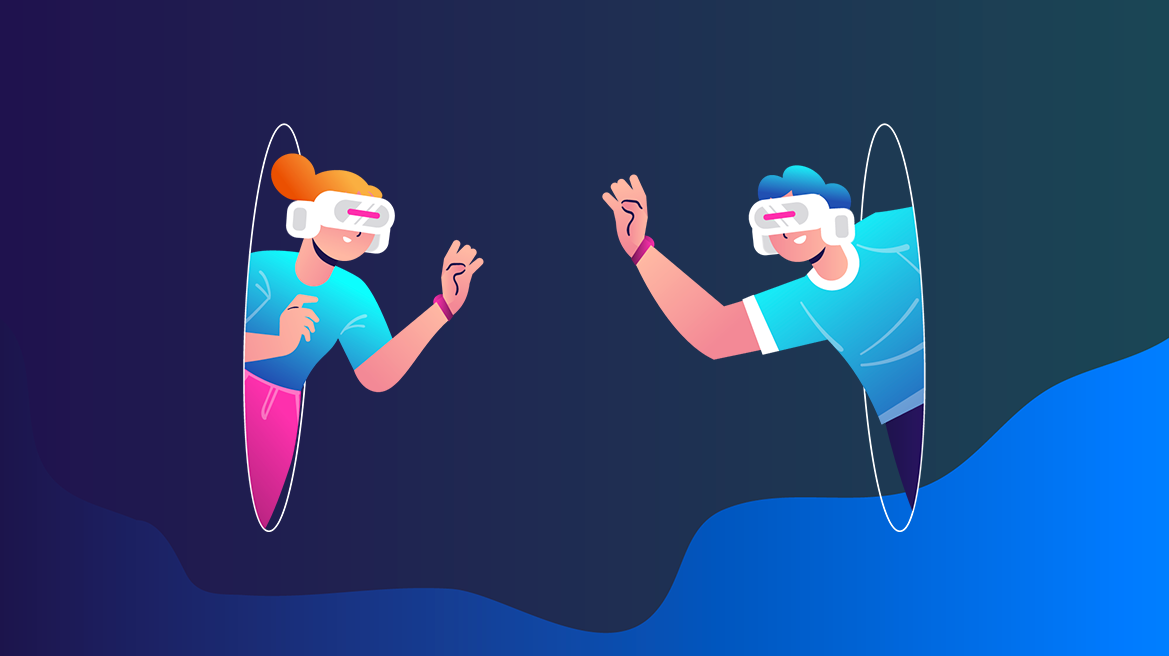 What is the Metaverse?
Broadly speaking, the term refers to a virtual world that allows its participants to partake in activities similar to those in the real, physical world, but only through digital avatars.
The Metaverse will be a hybrid solution that includes virtual reality and mixed reality worlds, which users can access through a browser or headset.
This question has become so prevalent among people of all generations lately and has even turned to one of the most buzzing topics that are making headlines these days.
However, its concept is not entirely new!
With the recent boom in technology that has paved the way for its actual implementation, the Metaverse has evidently taken the world and the world of business by storm.
Interesting Read: Booming Industries To Look Out For In 2022
In short, it's a shared online space that is expected to take up a huge part of our lives in the next decade or so.
How did the interest in the Metaverse come about?
It's no secret that technology has dominated our lives for some time now, already causing unprecedented changes in the way we interact, communicate, and get things done.
In addition to the technological advancements that have been taking place and the interest in virtual reality, the sudden fixation with the word has been partially induced due to Facebook's name change announcement.
Naturally, the sudden attention the term received has prompted curious minds to try to understand the details that define what the Metaverse is.
How will the Metaverse influence our lives?
It has been agreed that the Metaverse will influence our lives in many ways, starting by ushering in new experiences the world has never seen before.
In a nutshell, real time interactions will be possible despite the distance, redefining the idea of communication. This is only the beginning though.
After the concept matures, we will witness a transformation on many fronts: surgeons will be able to pool their efforts and friends will be able to hang out in a virtual space!
What is the Metaverse's Origin?
The Metaverse concept isn't new. It was first mentioned in a science fiction novel that described characters interacting in a 3 dimensional, fictional world.
Also, many historical milestones have led to redefining the realms of the Metaverse and its purpose, allowing it to become a tool that enables us to access augmented and virtual reality using digital technology for a greater purpose.
How will the Metaverse provide business opportunities?
Economic opportunity will be available plentifully for all businesses in the Metaverse, big and small. The Metaverse will not only unlock business opportunities for all, but will also boost digital commerce, entertainment, and communication for brands that will need to evolve to stay up to date on consumers' needs.
Hence, all business in these respective sectors will flourish. In addition to that, knowing that the Metaverse is more than your standard Zoom call, the Metaverse will serve as a collaboration field for people coming from different places in the workforce.
Creators, entrepreneurs, policymakers and many others will be able to work closely together like never before, and this merger will surely unlock business opportunities of its own.
It's also expected that the Metaverse will not only enhance our physical world and current job roles, but it will also create newfound job opportunities to accommodate the new reality.
Naturally, with these new jobs, new streams of income will follow. Business will leverage the Metaverse to sell services and products that only exist in the digital world.
Note that we've already taken the first step in that direction. The business world has already set foot in the metaverse a world of virtual products with the rise of NFTs, which have experienced quite a boom lately.
What is the Facebook Metaverse?
It's impossible to tackle the concept of the Metaverse without addressing the Facebook Metaverse, which could be the reason for the public's sudden interest.
Following the tech company's name change, it was apparent that Meta (previously Facebook) was taking the route of the futuristic technological concept.
The company isn't the only business working on the concept, though. Many companies have already built some version of the Metaverse, but Facebook, or rather Meta, is actively trying to have the upper hand when it comes to mixing our virtual with our real lives.
As of now, Facebook's version of the Metaverse is still limited. Its avatars, technology, and navigation still have a long, long way to go.
However, it's still keen on investing billions of dollars to compete with other businesses over dominating the Metaverse.
Putting a lot of money in this somehow new concept, which is relatively still in its infancy, is understandable in a world where technology is continuously changing and evolving for the better, especially If Facebook ends up executing the idea in the right way.
But as a professional investor and advisor we will always suggest to diversify your portfolio.
Regardless, there's no doubt that the company will gain more influence on our lives if its plans succeed as people will use the app more and its products in a more interactive way.
Will it be possible to invest in the Metaverse?
The answer is Yes! You can easily start investing in the Metaverse as of this instant, simply by investing your money in companies that are or will be operating in the Metaverse realm (no matter how basic that realm might still be).
Cloud service providers like Amazon, Meta, and many others are one of these companies. However, putting your money in ETFs is still the easiest way to invest in the Metaverse.
This is because ETFs group the stocks of several companies that are integral to the development of the concept.
Which companies are investing in the Metaverse?
Before we gear up for this virtual revolution, it's good to keep an eye on the companies that are investing big in the Metaverse.
Here's a preliminary list:
Meta
Alphabet
Roblox
Nvidia
Microsoft
Snap
Adobe Systems
Luckily, you can easily invest in companies that are connected to the Metaverse with the click of a button- simply by an online stock trading platform, like Wealthface, which will allow you to invest in multiple ETFS and stocks, all through a seamless process that is client-oriented and transparent.
It's important that you choose a platform that caters to all your individual needs. This is because investing for your future is the main step that will ensure you lead a better, more secure life.
Investing with Wealthface is an easy process that requires barely any effort on your part. When you open an account with Wealthface, you have the option to trade or invest in global companies with a few clicks.
That's not it, with Wealthface, you're also utilizing the expert advice of fiduciary advisors that are required to have your best interest by law. Hence, investing becomes a seamless process that will transform your life and your investing experience.
Start your Investment Journey with Wealthface - Signup Now!
Bottom line
It's still unclear whether the Metaverse will indeed become the next "successor of the mobile phone", but what we know for sure is that this futuristic concept will change the way we use technology, defining the way we connect with people and offering an escape from our ordinary lives.
So it's important that we study all its aspects to prepare ourselves for what's to come and get prepared to all the transformations that it will lead to in the market and business word.
Remember, you can still invest in the companies that work in the Metaverse realism, with Wealthface, even if the concept is still in its infancy!
Wealthface
smart financial tools will help you shape your financial future.
Check out this graph of our aggressive portfolio